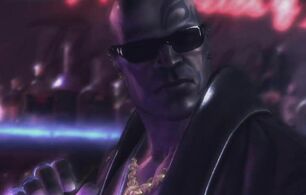 Rodin
is a weapons dealer, a bartender, and the proprietor of the Gates of Hell. He is a renowned demon weaponsmith and is responsible for creating Bayonetta's set of pistols, Scarborough Fair. He seems to be from Inferno and tells Bayonetta that he will trade her items from his shop for halos that she collects from the Angels she kills, claiming they are worth a fortune 'downstairs'.
If Bayonetta brings him a golden LP, Rodin uses its angelic melody to lure the demonic creatures of Inferno out of their lairs so that he can craft weapons out of them. The fact he seems to become very tired and heavily injured after doing so, suggesting Rodin must fight them to do so.
Rodin is confirmed to be returning for Bayonetta 2, still in the Gates of Hell. It is most likely he will be reprising his former role in the first game as a weapons dealer to supply Bayonetta with new weapons, including her new set of guns.
Hierarchy of Laguna
Edit
An incredibly powerful angel once charged with governing a portion of Paradiso. Immortal, he has seen the passing of countless generations in Paradiso, surviving them all, and earning the awe-inspiring title of Infinite One.
It is said he turned his back on the heavens and fought an insurgency against Paradiso. Upon ultimately losing the battle, he was exiled to Inferno. However, there are others that say the rulers of Paradiso feared his power and ensnared him in a trap that led to his exile. During his time in paradise, the angel Rodin was charged with the task of creation, responding to Divine Will with various masterpieces.
He was known as a genius smith, renowned for his weapons and armor. The stories of grossly outnumbered troops using his weapons to eviscerate demonic forces are too numerous to tell. After being forced from Paradiso, it is said the newly condemned demon tired of the chaotic battles that rage endlessly in Inferno and disappeared from the Infernal realm. No one knows of his whereabouts since."